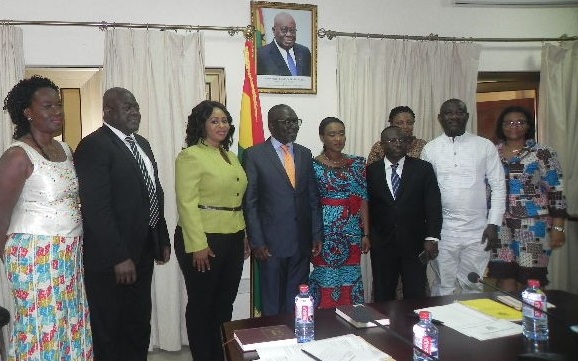 Sept. 27, 2017       A nine member Board has been inaugurated to serve on the Public Procurement Authority (PPA) board. The inauguration was held at the Ministry of Finance, Accra.
Swearing in the members of the board, the Deputy Minister of Finance, in charge of budget, Hon Abena Osei Asare (MP), urged Board members to exhibit professionalism in the discharge of their duties.
Commenting on the Auditors General's report for 2015, she said it was sad that public procurement processes were characterized with irregularities, which she said must be curbed to save the country from further losses. She therefore urged Board members to fully commit to ensuring that government procurement procedures are made transparent and less prone to corruption. Adding that it will go a long way in improving the image of the PPA.
The Hon Minister said with the support of the World Bank an electronic government procurement platform is being developed which will be piloted in six Government institutions. She hoped that the innovation will significantly reduce the human interface in the procurement processes and further eliminate corruption, collusion and fraudulent practices.
The Minister of State in Charge of Procurement, Hon. Adwoa Safo (MP), who was at the function, reiterated the need for Board members to discharge their duties with a high sense of efficiency. She further urged board members to seek advice and support from her outfit as it would go a long way in helping them run their operations smoothly to bring greater profitability to the people of Ghana.
The Chairman of the Board, Prof. Douglas Boateng, in his acceptance speech, said the Board will remain committed to supporting Ghana's long-term socio-economic development. 'We are confident that our approach will ensure value for money, consistent service delivery, quality, vertical specific industrialisation and local value chain development', he added.
He however, assured that as part of their guiding principles, they would be open and transparent in discharging their duties as well as bringing their professional experience to bear in their critically assigned duty as Board members of the Public Procurement Board.
Other members sworn-in were Adjenim Boateng Adjei, Godfred Yeboah Dame, Emmanuel Yaw Boakye, Ernestina Swatsn, Stella Dede Williams, Samuel Richard Nee Baidoo, Dave Kofi Owusu and Patricia Safo. – END -