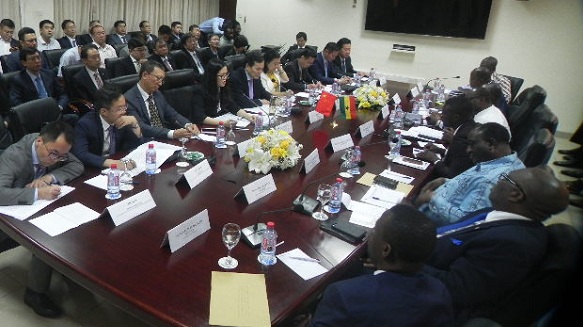 Accra, Sept 26, 2017 - The Minister of Finance of the Republic of Ghana, Hon. Ken Ofori-Atta, and Hon. Qian Keming, Vice-Minister of Commerce of the People's Republic of China have signed Minutes of the Fourth Session of the Joint Commission on Economic, Trade and Technical Cooperation between the two countries held in Accra on September 26, 2017.
The Vice Minister's visit is also a follow-up to that of H.E. Dr. Mahamudu Bawumia's recent visit to China in June 2017.
The discussion on the fourth session centred on bilateral trade, investment, financing, development assistance cooperation with regards to grants and concessional loan financing, regional aviation cooperation, and human resource training and implementation of the US$60 billion support provided under Forum on China-Africa Cooperation (FOCAC) for African economies.
The Joint Commission on Economic, Trade and Technical Cooperation is a medium term Development Assistance Agreement, expected to be signed every four years between Ghana and China to guide the cooperation arrangements over the period.
Consensus reached during the summit are:
I.                   BILATERAL TRADE.
The two sides were satisfied with progress of bilateral trade achieved in recent years. They however noted the great potential due to the complementary economic structures of the two countries. Commitments were therefore made to support trade and investment liberalization and facilitation, resist protectionism, and further expand bilateral trade through a bilateral trade Cooperation Agreement so as to promote economic development and improve the living standards of the peoples of the two countries. This will include the strengthening of information and personnel exchange and facilitating mutual visits of relevant agencies to trade fairs, expositions and other trade promotion activities, so as to enhance mutual understanding and further expand bilateral trade scale.
The Chinese side has extended invitation to Ghanaian delegations to participate in China International Import Exposition from 2018 and other trade promotion activities, advertise products such as Cocoa, Cashew, Starch, Shea-butter on Chinese market to encourage further imports from Ghana by Chinese enterprises.
II.                INVESTMENT COOPERATION.
Investment was seen as a key area in the next-stage of the economic cooperation and the need to explore potentials to deepen investment cooperation. One notable area is for Chinese enterprises to take part in Ghana's "One District, One Factory", to speed up Ghana's national industrialization process such as mineral, manufacturing, agricultural production and processing etc. and also to adopt preferential policies.
III.             FINANCING COOPERATION.
To further support the economic and social development of Ghana, the Chinese side is willing to provide over the medium term, the necessary financial support in the following sectors: - electricity, transportation, telecommunications, municipal construction, education etc. under the framework of the Forum on China-Africa Cooperation(FOCAC).
Chinese financial institutions will also establish business relationship, exchange information with the Ghana Export-Import Bank and other Ghanaian financial institutions, in order to provide service for the further development of bilateral trade and economic cooperation.
IV.             DEVELOPMENT ASSISTANCE COOPERATION.
There have been marked achievement in the area of economic and technical assistance from China side and there is continued willingness to support Ghana's economic development within the limits of China's capability. 
V.                HUMAN RESOURCE CAPACITY BUILDING.
The two sides emphasized the importance to strengthen human resource cooperation through exchange programmes and participation in various seminars and training courses in China.