President Nana Addo Dankwa Akufo Addo has given the indication of his government's keen interest in fixing the demand-side challenges in home ownership.

He noted that, housing ranked high as a fundamental human need and that traditionally, house ownership was a symbol of diligence and accorded one some dignity and respect in our society. Nana Akufo Addo made this known at the official commissioning of National Housing and Mortgage Fund (NHMF) Estates at Tema Community 22 in Tema on Monday, 26th October 2020.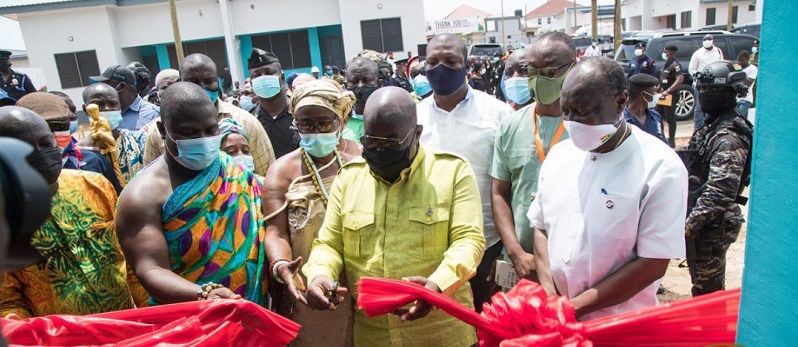 The project which was a collaboration between the NHMF, Tema Development Company (TDC) and GCB Bank Limited involved 204 houses comprising one (1), two(2) standard and expandable unit bedrooms for public workers.
He regretted that, the nation had done very little to promote house ownership in an organized and equitable manner. The land tenure system, legal framework had together worked against that very important sector of our economy.

"The evidence suggests that Ghanaians spend a considerable part of their income on rent, especially those living in Regional capitals and urban cities". President Akuffo Addo noted. The cost of houses on the market, he stated, exceeded the means of many ordinary workers who had no hope of ever owning their own homes during their working lifetime and added that many people acquired lands in the outskirts of the cities and used an average of seven to 10 years to put up their own houses.

The President further noted that, the housing sector deficit was as a result of our inability to deal with the high population growth, rising rural-urban migration, multiple sales of land, struggles and intimidation from land guards, among others. To combat these challenges, Government, as part of the financial sector policy initiatives in the 2018 Budget Statement and Economic Policy, approved the National Housing and Mortgage Financing initiative to address the demand-side changes of home ownership in Ghana.

To operationalize the policy initiative, the Ministry of Finance established the National Housing and Mortgage Fund (NHMF)  to pilot two Schemes (2018-2020): The National Mortgage Scheme with participating banks and Affordable Housing Real Estate Investment Trusts (REITs) Rent-to own scheme.





"The fund was now working with players in the housing markets, home buyers, developers and banks to address the issues and create an enabling environment for thriving housing market" He disclosed. Under the National Mortgage Scheme, mortgages were being underwritten at rates of 10%-12% by the participating banks namely, GCB Bank Limited, Stanbic Bank and Republic Bank Ghana Limited. The intervention had indeed reduced mortgage rates by over 60%, compared to the average market rate of 28%.

He touched on the Affordable Housing REITs and stated that it was promoting the rent –to –own scheme with only monthly rent payments and after a period, the occupant had the option to own it. This would eliminate the burdened two (2) year rent advance system.

"The Ministry of Finance and Ministry of Works and Housing will also partner to speed up work on delivery of houses under the National Mortgage Scheme (NMS) and Affordable Housing REITs (Rent-to-own) scheme to promote investors interested in developing affordable houses in the country.