Accra, Thursday 23rd June 2022 - The Vice President of the Republic of Ghana, Dr. Mahamadu Bawumia has commended the African Trade Insurance (ATI) for their innovative solutions to Africa's economic challenges.
"ATI's role in helping to mitigate the adverse effects of the pandemic and the conflict (Russia/Ukraine) is equally critical. I am pleased to note that ATI has remained committed to this course 20 years after its establishment and continues to facilitate increased volumes of trade and investments, by providing innovative de-risking tools aimed at maintaining capital flows across Africa at this critical time in our history".
Dr Bawumia said these when he opened the 22nd Annual General Meeting of the ATI in Accra. In attendance were African Finance Ministers, Shareholders, Board Members, Executive Directors, and Management of the ATI.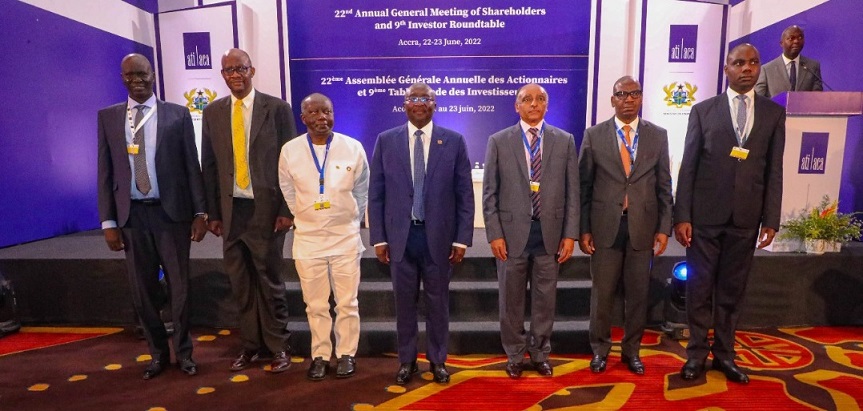 Vice President underscored the importance of intra-African trade to reduce its vulnerability to external shocks and called on African leaders to work towards removing inhibitions that obstruct economic development on the continent.
He affirmed that "Africa need to, not only create, and sustain conditions that are conducive to increased trade and investments, but we also need to remove structural impediments that stand in the way of private enterprises, to pave way for higher and sustainable economic growth over the long-term"
To this end, the Vice President emphasized the need for Africa to consolidate its small economies and adopt regional and continent-wide approaches to current challenges, "Regional cooperation will help us exploit the synergies that exist in our countries and speed up our integration into a globalized economy".
He noted that it was to fulfil this regional approach that African governments created the ATI to enhance African competitiveness and self-reliance.
Dr Bawumia urged the ATI to cooperate with other continental bodies such as the African Continental Free Trade Area (AfCFTA), the world's largest free trade area covering US2.5 trillion in combined GDP.
"We encourage closer cooperation between the AfCFTA Secretariat and ATI to speed up the implementation of free trade area. If Africa works together in this direction, we will gain more time and mileage in reducing reliance upon external markets for our socioeconomic development and in enhancing value addition of our resources."
He pledged Ghana's continued support to the ATI and encouraged members and shareholders to recommit themselves to the sanctity of ATIs Preferred Creditor Status and member countries to also honour their commitments to the ATI.
Established in the year 2001, ATI is a pan-African institution that provides political risk insurance to companies, investors, and lenders interested in doing business in Africa. It aims at supporting the transformation of Africa into a prime trade and investment destination and turning African Risk into opportunity by providing Insurance and Financial products. End.