Accra, 22nd July, 2021 - Mr. John Ampontuah Kumah, a Deputy Minister for Finance and Member of Parliament for the Ejisu Constituency, has commended the Board, Management, and staff of GCB Bank Limited for the consistent and steady increase in dividend payments to its shareholders, including Government, over the years.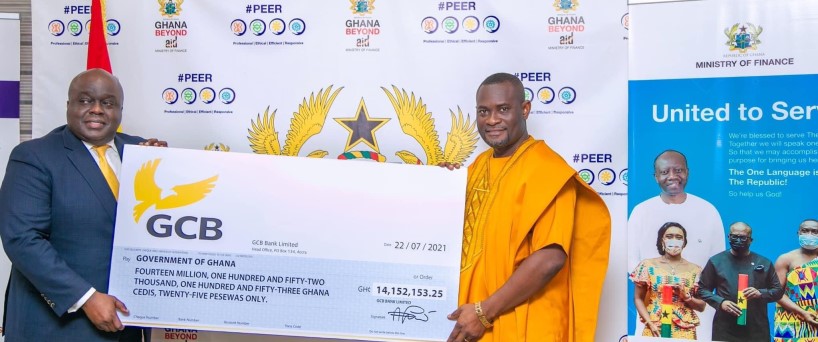 "This afternoon, we have met here to receive a cheque in the sum of GH₵14.152million representing final dividend payment on the 2020 accounts" he said, adding that the amount represented an increase of 25%, compared to the GH₵11.321million paid to the Government in 2020 on the 2019 financial year.
The Deputy Minister made these observations when he received the dividend payment on behalf of the government and people of Ghana. 
Hon Kumah revealed that, Government had received an amount totaling GH₵69.62million from the Bank between the periods of 2017 and 2021 for its 21.36% shares in the Bank.
The breakdown is as follows:
| | |
| --- | --- |
| Year | Amt. Paid (GH Mil) |
| 2017 | 21.51 |
| 2018 | 5.66 |
| 2019 | 16.98 |
| 2020 | 11.32 |
| 2021 | 14.15 |
| Total | 69.62 |
The Managing Director of the Bank, Mr. Kofi Adomakoh noted that, the bank was proud to present dividend to its biggest shareholder which was the Government despite of all the challenges posed by the COVID-19 pandemic. 
"The future looks bright despite the challenges. We at GCB Bank Limited see opportunity in the challenge and as the biggest indigenous bank in Ghana, we are well positioned and reminded of our responsibilities" Mr. Adomakoh stated.
The Managing Director added that, GCB Bank would continue to focus on developing indigenous businesses and align itself with the vision of the Government and gave the assurance that, the Bank would continue to support Ghanaians in general in their businesses and stay competitive in these difficult times.
The short presentation was attended my other Management members of the Bank and officials of the Ministry of Finance. END