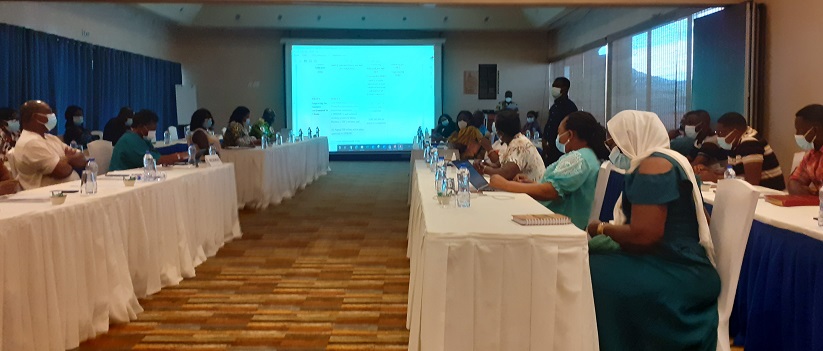 Senchi, April 8, 2021 - The Ghana Economic Transformation Project (GETP) has held a post-implementation support mission workshop to discuss project implementation challenges and other matters arising from the just ended World Bank Implementation Support Mission and to brainstorm on the strategies for rapid disbursement.
The Director, Resource Mobilization and Economic Relations Division, Ms. Yvonne Quansah of the Ministry, in her welcoming address indicated that this workshop would deliberate on the progress made on the side of the GoG team and explore how the Project Coordinating Unit (PCU) could help fast-track various activities for the Technical Implementing Agencies (TIAs). 
Director, RMERD also indicated the workshop would help bring all the Heads of TIAs on board to discuss the various challenges and find ways to address them and express appreciation to all the participants for their commitment to making this project a success. 
Other areas of discussions included procurement and extensive discussions on the project coordination. Experts from the World Bank also provided TIA guidelines on some of the issues pertinent to the programme. 
The workshop brought together representatives from Ministries and Agencies including the Ministry of Trade and Industry, Register Generals Department, Ghana Standards Authority, Ghana Enterprises Agency, Ghana National Accreditation Service, and Ghana Free Zones Authority.
Other Agencies are Venture Capital Trust Fund, National Entrepreneurship and Innovation Programme, Ghana Investment Promotion Centre, and National Board for Small Scale Industries. END