Washington DC, 20th October 2019 – Ken Ofori Atta, Minister for Finance has called on the Breton Woods institutions to take measures to diffuse uncertainties associated with the current world geopolitical tensions and trade protectionism to protect gains in economic reforms across Sub-Sahara Africa and ensure the African Continental Free Trade Area (AfCTA) is successful.
He noted that AfCTA is a game changer for economic transformation for Africa and has the potential to mitigate some of the downside risks to macro-economic stability and resilience.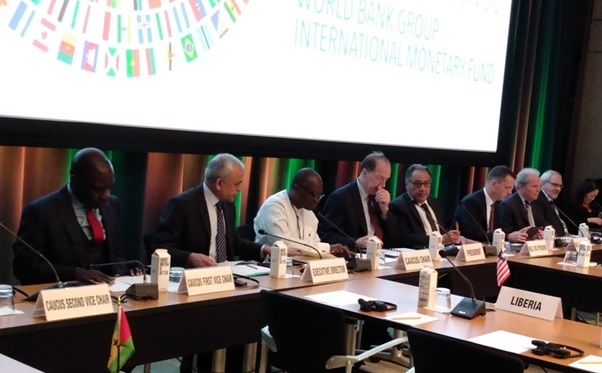 "Nevertheless, the rising global uncertainty associated with the continuing geopolitical tensions and trade protectionism will erode any potential benefit of reforms – and thus job creation and poverty alleviation, which with the teeming youth population could fuel social conflicts that give rise to insecurity and instability", he stressed.
Mr Ofori Atta, Chairman of the African Caucus group said these when he presented Africa's five priority areas for focus in a memorandum to the President of the World Bank, Mr David Malpass and the Managing Director of the IMF, Kristalina Georgieva at separate meetings with the Fund and the Bank, and the African Caucus group during the Annual Meetings of the Bretton Woods institutions.
The African Caucus meetings with the Fund and the Bank is a platform for the group to exchange views on issues of utmost priority to Africa's development with the Heads of the Bretton Woods Institutions.
The Caucus want the Fund and the Bank to focus on the five priority areas to bring about the much needed transformation of the continent and to attain the SDGs.
The five priority areas are, strengthening institutional capacity and public financial management; enhancing human capacity and skills development to accelerate job creation and economic transformation; promoting innovative finance for private sector led growth; ensuring a robust IDA 19 replenishment and enhancing Africa's voice and representation in the two institutions.
The Memorandum also called on the two institutions to re-examine the current global arrangements in commodity pricing and trading, sovereign rating, insurance premiums and promoting Africa Bond Markets.
They called on the two institutions to take measures to increase the recruitment of more people of Africa descent into the two institutions especially in the middle to senior management levels.
"We reiterate our long standing call for a third chair for SSA at the IMF Executive Board to improve representation of these countries".
David Malpass and Kristalina Georgieva both pledged their support to assist Africa achieve the vision and priority areas of focus for Africa during their tenure.
Ken Ofori Atta's one year tenure as Chair of the Caucus ended after the meeting. He handed over to Alamine Ousmane Mey, the Minister for Economy, Planning and Regional Development of Cameroon. END