Washington DC, October 16, 2019 - Ghana and officials of the Global Partnership for Education (GPE) met on the side-lines of the 2019 IMF World Bank Annual Meetings to discuss innovative ways to raise funding to urgently finance education.
They recognised the challenge for developing countries to meet funding requirement for education, the need to strengthen the current education financing architecture and for the funds raised to be targeted to achieve the SDG 4.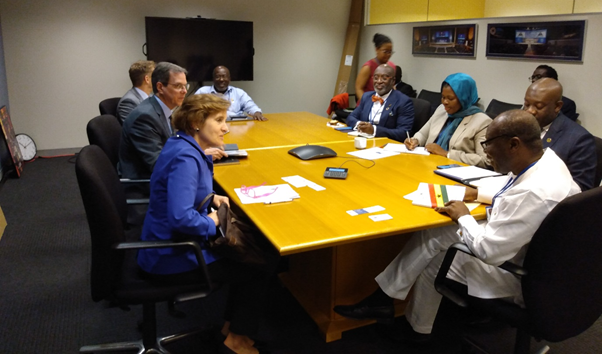 They also discussed how to leverage technology to reduce cost, improve quality and access, and ensure equality in education. 
The Ghanaian Team was led by Ken Ofori Atta, Minister for Finance and Global Partnership for Education was led by Alice Albright, Chief Executive officer.  
Welcoming the team, the Minister disclosed that over the past five years, Ghana spends on an annual basis, between 6 to 8 percent of GDP and between 21 to 28 percent of Government expenditure on education. 
"In 2017, education related expenditures amounted to 28.9% of Government expenditure, above the 6% of GDP recommended benchmark and 20 percent of Government expenditure globally advocated". 
The Minister also briefed the delegation on reforms in the education sector such as the free SHS create and improve access to secondary education, mobilizing of US$ 1.5 billion to undertake radical expansion of educational infrastructure and use of technology to deliver education outcomes.  
Alice Albright, on her part, said her organisation was currently advocating and galvanising support to increase funding for education at the highest levels of government and international organisations.
She noted that education finance has been dwindling over the years, yet education was critical to global growth and stability and appealed to the Minister as Chair of the IMF/World Bank Development Committee to use his position to galvanise support for increase in education finance.
In particular, she asked for Minister's support for the International Finance Facility for Education (IFFEd), an advocacy group. The IFFEd has so far mobilised a $100m guarantee and a $100m grant to deliver $500m of extra resources to education.
IFFEd will not be an implementing agency, but work through the World Bank and the regional development banks to provide grants to eligible countries to soften the financing terms and make financing for education much more affordable.
 
About the Global Partnership for Education
The GPE was established after a meeting of key multilateral agencies active in education in the lead up to the July 2019 UN High Level Political Forum, the GPE aims to strengthen coordination and collaboration between global education actors to accelerate achievement of SDG 4.
The GPE was set up to assess progress and identify key bottlenecks, and help deliver support for reform and cascade additional finance – including domestic as well as international finance - at global and at country level for Education.  
They support about 70 developing countries, including Ghana, to ensure every child receives quality basic education, prioritizing the poorest, most vulnerable and those living in fragile and conflict countries. END