Accra, 2nd October, 2019 …   As part of the series of engagements with stakeholders to solicit views for consideration into the 2020 Annual budget, the Ministry of Finance held a breakfast meeting with a number of Financial Institutions.
The PFM law requires the Ministry to engage with different stakeholders for their inputs before the annual budget presentation to Parliament. It affords the   Ministry of Finance the opportunity to solicit inputs and perspectives on Government's economic policies and programmes for consideration into the budget. 
Hon. Ken Ofori Atta in his speech at the breakfast meeting noted that, it was imperative for the people of this nation to understand and appreciate the transformation in the financial sector.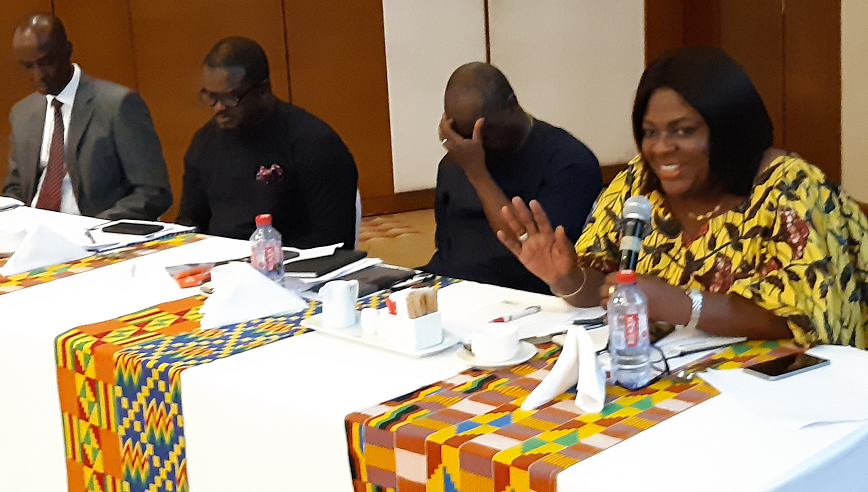 According to him, the whole financial sector clean-up exercise was to establish stronger financial institutions and provide a new sense of rejuvenation in the sector.
He called on the representatives of the Financial Institutions to use all available means to educate Ghanaians on the benefits of this clean-up exercise and not remain unconcern.
The silence of the Financial Institutions meant that people with sinister motives were given field day to negatively pollute the minds of unsuspecting Ghanaians with deceits.  
Mr. Ofori-Atta further added that, the time had come for the bankers to feel empowered to join the conversation in the media space and support the good polices rolled out for the banking sector.
Financial Institutions represented at the breakfast meeting included Fidelity Bank, Agricultural Development Bank, Barclays Bank, Eco bank, Bank of Ghana, Consolidated Bank Ghana, G.C.B Bank Ltd, and Ghana Amalgamated Trust.
A number of inputs and suggestions were proposed and discussed for consideration into the budget after presentation of the overview of the 2020 Budget by the Economic Strategy and Research Division of the Ministry of Finance.
Among them included; incentive packages for parents who would fund their wards Free Senior High School education, how private equity could work with pension funds and other sources of capital to bring the needed development, the promotion of Small and Medium Enterprises within the Agricultural space, the the need for Agricultural retail insurance for small scale farmers at a decentralized level in the districts
Others included, the need for Banks to get more involved with the introduction of liquidity to supplement Government's efforts, the need to restructure the Banks engagements with Contractors and Government, where Banks provided credit to Government suppliers and Government pays back to contractors, the need for Government to create a forum for banks to have a discussion on the financial sector so as to clearly state the true picture of sector to the ordinary Ghanaian.
A number of institutions already engaged and views collated for consideration included; the Think Tanks, Academia, Non-Governmental Organizations (NGOs), the Faith Based Organizations, Farmer Based Organizations, Importers and Exporters groups, the Media among others. END